Vehicle Disinfectant Spray
Looking out for your safety in new ways.
Receive a spray down of the interior of your vehicle with our Precision Care Machine. Quick and leaves no stains. Call for more details.

Bleach-Free, Odorless, Colorless & Safe to Use Inside your Vehicle
Precision Care powered by Clorox Total 360 is the first system that pairs a patented electrostatic sprayer with trusted Clorox products to quickly and easily reach areas inside a vehicle where germs live.
Kills 99.9% of bacteria in as little as 5 seconds*

Eliminates odors caused by bacteria

Inhibits the growth of mold and mildew

EPA registered to kill viruses such as cold,** flu viruses and SARS-Cov-2, the virus that causes COVID-19
ASK AN ASSOCIATE FOR DETAILS!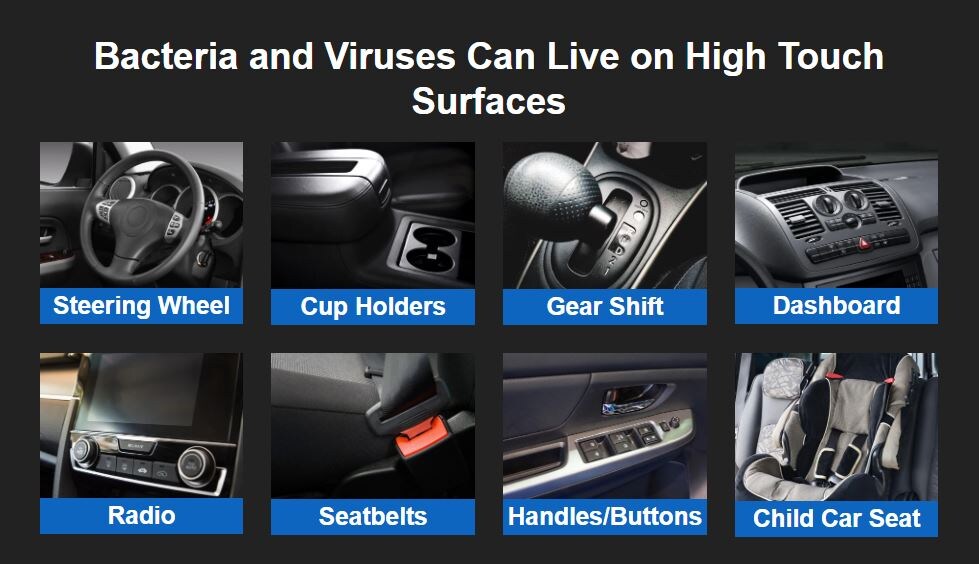 *Staphylococcus aureus (Staph), Klebsiella pneumoniae. **Rhinovirus. 
Sanitization claims are valid for all vegetative, non-spore forming bacteria. All efficacy claims & statements are relevant when the disinfectant product is applied correctly. This disinfectant product has been approved & registered by the EPA for use against SARS-CoV-2, the virus that causes COVID-19. Disinfectant methods or claims should not be deemed to state or imply that the products can eliminate or prevent transmission of any virus, illness or disease. © 2020 Clorox Professional Products Company. Clorox and Clorox Total 360 logos are registered trademarks of The Clorox Company.