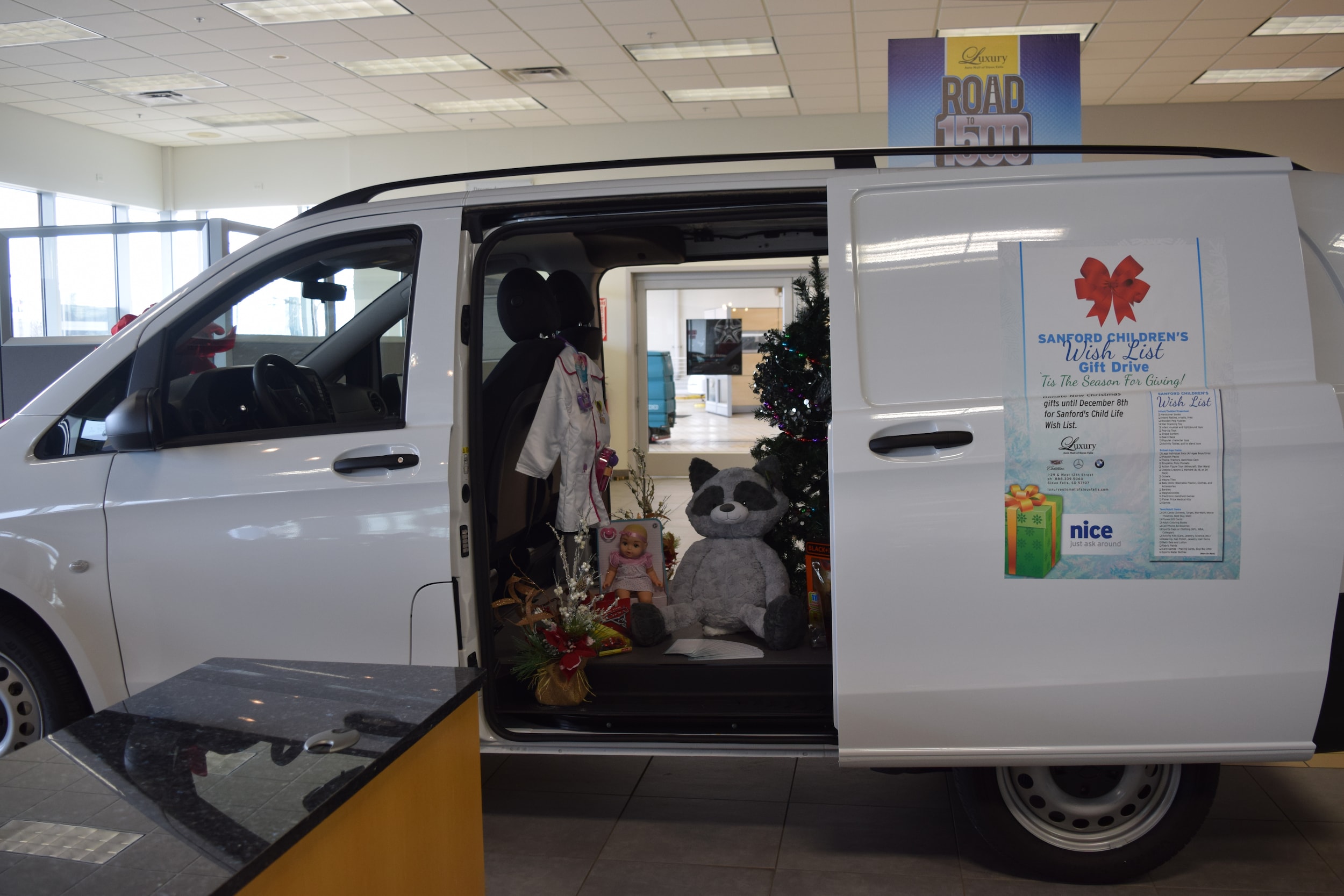 'Tis the season for giving!
Join us in donating new Christmas Gifts to the Sanford Children's Wish List. Luxury Auto Mall of Sioux Falls is collecting gifts through December 8th for patients and their families who are staying at Sanford Children's Hospital. The gifts donated during this event will benefit patients and their families residing at Sanford Children's Hospital over the holiday season. If you can, please consider making a donation to help us brighten the holidays for families in our community.
See the official Sanford Children's Wish List below and do some early holiday shopping for a wonderful cause. Drop your donations off at our store by placing them in the back of the big Metris delivery "sleigh" van located in our Mercedes-Benz showroom.
The official wish list shows the desired gifts for certain age groups at the hospital. Sanford Children's is looking for a wide variety of donation items – from infant rattles and hardcover books all the way up to sports wear and iTunes gift cards. We're hoping to spread a little extra holiday cheer to families who will not enjoy it in the comfort of their own homes.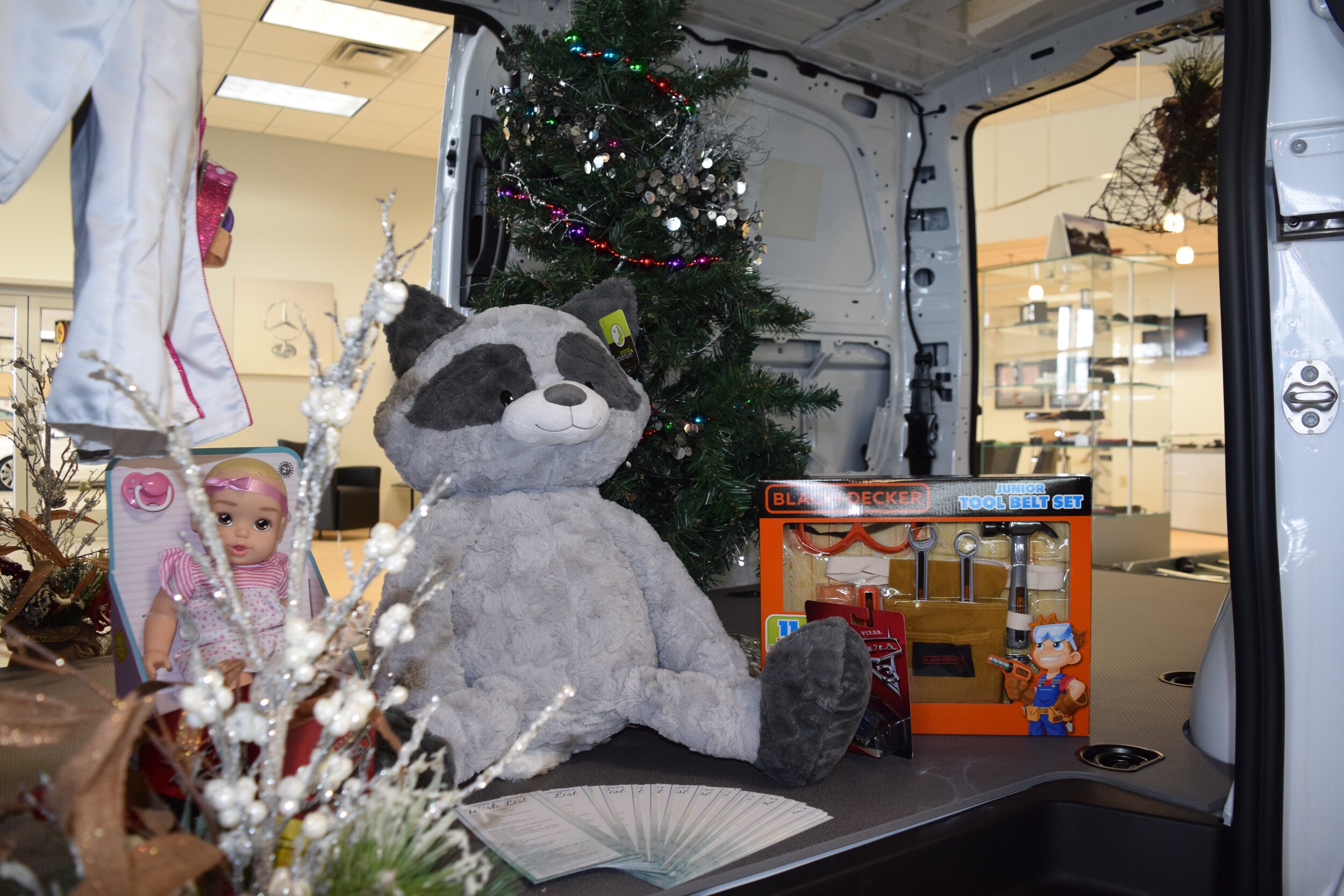 Help us deliver some holiday cheer on December 8.
Infant/Toddler
Infant Rattles, o-balls, links
Infant musical and light/sound toys
Activity Tables, pull to stand toys
School-age Items
*Lego individual sets (all ages boys/girls) *Large Need*
Trains, Tractors, Matchbox cars
Action Figure Toys (Mine Craft, Star Wars)
Crayola crayons & Markers (8, 16 or 24 pack)
Baby dolls (washable plastic), clothes, and accessories
Electronic handheld games
Fisher Price Medical Kits
Teen/Adult Items
*Gift Cards (Scheels, Target, Wal-Mart, Movie Theatres, Best Buy, Mall) *Large Need*
Cell phone accessories, ear buds, speakers
Sports caps or clothing (NFL, NBA, collegian)
Activity kits (cars, jewelry, science, etc.)
Make-up, nail polish, jewelry, hair items
Teen girl jewelry (bracelets, earrings, etc.)
Card games - Playing Cards, Skip-Bo, UNO
Other/Miscellaneous Items
Clothing (all sizes – child and adult)
Gift cards (gas, restaurant, retail, groceries)
DVDs rated G and PG (Spanish)
Lip Smackers and Skittles Chapstick
Community Service Projects/Donations: (Please contact us regarding projects)
Family packs – small, travel-size toiletry items in a Ziploc bag (toothbrush, toothpaste, deodorant, soap, shampoo/conditioner, lotion, razor, shaving cream)
Fleece tie blankets that are child friendly and for all ages
Individualized Craft Packets in large baggies
Parent Pal Kits (include toiletries, phone cards, notebook/pen, journal, notecards, magazine, crosswords, etc.)