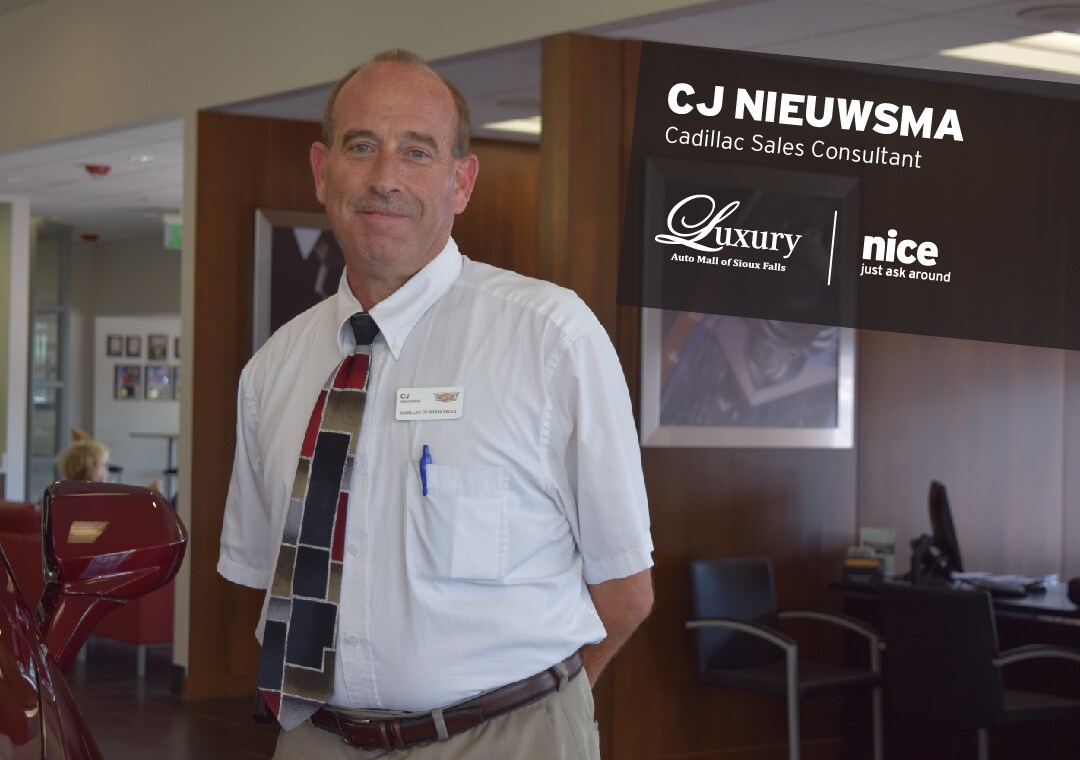 Welcome to another edition of #MeetUsMonday here Luxury Auto Mall of Sioux Falls!
Today, we'd like to introduce you to CJ Nieuwsma, Cadillac Sales Consultant here at Luxury Auto Mall of Sioux Falls.

Has CJ helped you find your new Cadillac? We'd love to hear from you in the comments!
Question: How long have you worked here at Luxury Auto Mall of Sioux Falls?

CJ: I've been here since we moved out here in 2002, when it was Cadillac, Pontiac, Saturn and Hummer. I've been with Cadillac the whole time.
Q: What advice would you give to men and women who are just joining the auto industry and taking on the role of sales consultant?

CJ: Just be good people. What's our vision at this dealership – To be so effective we are able to be helpful to others. That's what it all comes down to; just take care of people and it will be all good.
Q: What does a typical workday look like for you?

CJ: I am more an outdoors person, so you'll see me out on the lot more if the weather allows, just talking and meeting people there. I also happen to pull A LOT of vehicles through our car wash every day – I take care of our customers in what ways I can.
Q: What vehicle on the lot is your favorite, and what are some things you like about it?

CJ: The new XT5. It is one of Cadillac's best-sellers. It replaced the SRX, but is nicer with a similar price point. It drives like a car and takes gas like a car because you have the ability to switch from AWD to FWD when you want.
Q: What are some foods you really like and others you don't?

CJ: I like steak, chicken, seafood and even liver and onions. I just like cooking, but not the cleaning up part! I don't like cooked cauliflower or broccoli, I rather do those raw.
Q: Tell us about your last name! How do you pronounce it? What's its origin?

CJ: It's pronounced NEWS-MA. It's Dutch – coming from Friesland, the northern part of the Netherlands. That is where my family is from.
Have you worked with CJ? Got questions? Leave your questions or comments below!