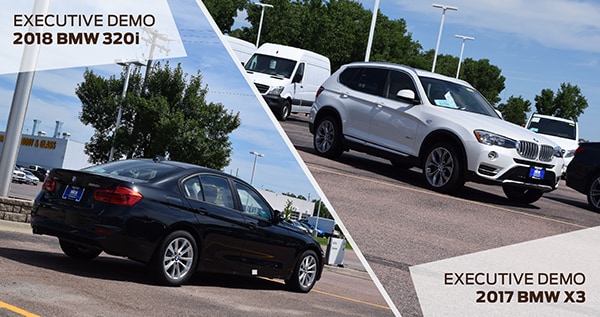 LEGENDARY PERFORMANCE
FOR LESS THAN YOU THINK.
With an Executive Demo BMW from Luxury Auto Mall of Sioux Falls, you get the thrill of owning a road legend with the benefits of new vehicle incentives, all at a lower price.
To provide a relaxed shopping experience for all our BMW customers, we provide Executive Demo vehicles while their BMW is receiving service. Retired Executive Demo BMW's are gently driven for a short period of time, fully cared for by our service team and then made available for sale.
Benefits of Buying a Retired Executive Demo BMW

Huge savings over new vehicles
Low demo miles
Still eligible for all new car rates
Special financing rates specific for these vehicles and applicable rebates
Vehicles are eligible for LEASE

With over 10 Retired Executive Demo BMW models to choose from, right now is the perfect time to take advantage of these benefits. Shop online and stop by our store on West 12th Street to test drive one of these vehicles for yourself.